What is cross-over media?
Where I coin a new term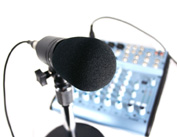 When was the last time that you bought a multimedia PC? Well if you ignore Media Centre PC, virtually all new systems come with the multimedia parts that used to be such an expensive option a few years ago. What was multimedia? Then it was just a sound card and a pair of speakers, and possibly a microphone that stayed in the box. Nowadays we define multimedia differently. Today we actually have content that is multimedia. In fact wiki describes multimedia as:
media that uses multiple forms of information content and information processing (e.g. text, audio, graphics, animation, video, interactivity) to inform or entertain the (user) audience.
Pretty much any commercial website has all of this now, sound, video, animations, flash and interactivity.
But I've recently been fascinated by a sort of media that seems to span different media. You could say that this is multimedia, but not really in its original sense. I have come across two recent examples.
3-Jan-2007 Permanent Link