More Moondust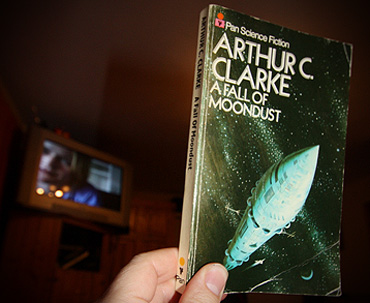 Way back in the day, a year or so after I read the Hitch Hikers' Guide to the Galaxy, and was instantly hooked on science fiction, some one, probably called David Hartley* introduced me to "A Fall Of Moondust" by Arthur C Clarke.
If I recall correctly, I first heard this story as a BBC dramatisation recorded from the radio onto cassette tape. As the dramatisation was abridged, I probably - the exact details escape me - read the book shortly after. It was one of those books that gelled with me - and I listened to the tape until it wore out.
So a couple of years ago, in what was maybe the beginning of my mid life crisis, I decided to read the book again. I bought the book, and, because I seem to have lost the ability to read words on paper, it has sat on my shelf ever since. Around the same time I used the internet to search for the BBC dramatisation. This search was rewarded by failure **.
My prime source of recreational 'reading' material now is audible - I use the hour or so I get travelling to work and back each day listening many different types of spoken word on the ipod - but even audible let me down. I sadly filled in the request form on their website for a version of a fall of Moondust, but never was dignified with a reply. I have filled in that form four times now.
But a month ago, just before I filled the form in again, I discovered to my delight that they now had a recording of the book is now available. Not my beloved BBC version - but a full unabridged reading. I bought it straight away, and then realised that it was an Audible Frontiers recording - which means if I understand correctly, they commissioned and recorded the reading themselves.
I never did get an email from them about it - I never had a reply - or even a "this is now available" mailshot. But I hope in my own little way I had a part in getting this version of the audio book released.
I've just recorded a short review of this book for Scifidig. If you have any comments please leave a message here or on the scifidig forums.
---
* David, a baker from Leeds who loved 2001, if you are reading this please get in touch.
** of course now you can just buy it on Amazon..
2-Feb-2010 Add comment
blog comments powered by

Disqus
Permanent Link